Zeina Schlenoff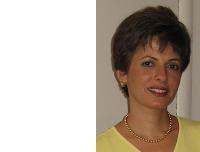 Dr. Zeina Tamer Schlenoff (Ph.D 1995, UMass, Amherst) was born and raised in Lebanon. She specializes in 20th century French and Francophone Literature, especially women writers from the Arab World. She has taught foreign languages for non-native speakers at the University of Massachusetts, Amherst, the Florida State University and the American University of Beirut, Lebanon (French and/or Arabic) for 18 years. She is currently the coordinator of the Arabic Language Program at FSU and the Director and academic advisor for the BA Degree in Middle Eastern Studies (www.fsu.edu/~mec). She is also the external examiner of Arabic for NASILP at the University of South Alabama. Dr. Schlenoff was the Founding Director for the Summer Arabic Language Program at American University of Beirut from 2000-2003 and is currently the Director of the Middle East Center at FSU. She is the author of "Le bonheur chez la femme colettienne" and numerous articles on literature and culture in the Arab World. She also conducts research on Orientalism and Colonialism, Women's Issues and Cultural Stereotyping.
Dr. Schlenoff received the University Teaching Award in 2005 and 2011 and the Advisor of the Year Award in 2017. She is also the recipient of a Title VI-A grant from the U.S. Department of Education.
Dr. Zeina Schlenoff speaks about her teaching:
"Part of my style is to interact personally with my students. Our classroom is a lively one, with a great deal of student involvement and interaction. During each class, I stimulate the students' imagination, get them to think analytically and challenge themselves, all in a non-competitive, non-intimidating environment."