Arabic Division hosts Arab Women Film Festival
---
Arabic Division hosts Arab Women Film Festival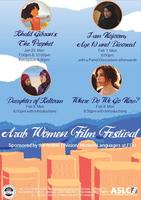 Arab Women Film Festival
The Arabic Division of the Modern Languages Department is thrilled to announce their upcoming Arab Women Film Festival! Over the course of three weeks, the festival will feature four titles, showcasing Arab women in leading roles. Films will be screened at Askew Student Life Cinema on the evenings of Jan. 25, Feb. 1, and Feb. 8, and showings are free and open to the public. 
The program is as follows:
Khalil Gibran's The Prophet (USA, 2015) (Nominated –Best Animated Feature – Independent)
Monday, January 25 at 7:00pm & 10:00pm (1 hr 25 min)
Reception (food and entertainment) between the two showings, at 8:30 pm: Everyone is welcome!  ​​
I am Nojoom: Aged 10 and Divorced (Yemen, 2014) (Winner –DIFF 2014 for Best Fiction Film)
Monday, February 1 at 6:00pm (1 hr 36 min)
Daughter of Keltoum (Algeria, 2001) (Winner –Milan Festival of African Cinema)
Monday, February 8 at 6:00pm (1 hr 46 min)
Where Do We Go Now? (Lebanon, 2011) (Winner –People's Choice Award, Toronto Int'l Film Festival and Audience Award, San Sebastian Film Festival)
Monday, February 8 at 8:30pm (1 hr 50 min)
Please contact Dr. Zeina Schlenoff (zschlenoff@fsu.edu) or Dr. Defne Bilir (dbilir@fsu.edu) for further details.